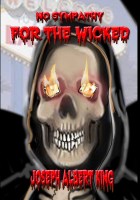 No Sympathy For The Wicked
There's a reason they call Las Vegas "Sin City". There's a reason tourists are reassured "what happens here, stays here." Dark places and shadows are the natural counterpart to bright lights and boundless sunshine. Las Vegas has plenty of both.

Wherever there are shadows there is the potential for shadowy figures and shady dealings. No Sympathy for the Wicked shines a light on a side of life where seduction, betrayal, death and damage are business as usual. Step into the shadows if you wish but remember to always watch your back.
No Sympathy For The Wicked, written by Joseph Albert King, and published by Visionary Press Collaborative, is sitting at the #1 Best Seller slot for Fiction>Themes& motifs>Crime on Smashwords. It also holds the #1 slot for Units sold.
Don't miss out. The price for this great book will remain at .99 only through the end of July. Get it now while this price holds.
Happy reading!
Blaze McRob