http://darkmediacity.com/group/the-dark-book-club/forum/topics/dark-book-club-selections-for-july
Here are the selections for The Dark Book Club on DarkMedia City. Great books all of them!
Member's Novels
The Pumpkin Seed by Timothy C. Hobbs (member)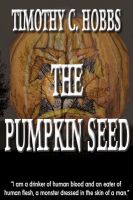 "I am a drinker of human blood and an eater of human flesh, a monster dressed in the skin of a man." So states Charles, the main character of the novel, after being infected with a virus transmitted by an insect vector.

The Pumpkin Seed opens in India near the Nepal border in the late 17th century. A commissioned officer of the East India Company is seeking a profitable new trade route into China. Indian bandits of the Thuggie clan attempt to stop this further invasion by the British and release a plague of insects, which carry a unique virus. This organism not only infects humans, it transforms the chemical and physical nature of the host's body. Longevity, resilience and the need to feed on human blood and flesh make the host an efficient killing machine, especially in regard to the human race.

The novel follows the characters through 17th and 18th century England and India, culminating in present day Austin, Texas. Set in the orphanages of London and in the vile body snatch. PURCHASE ON SMASHWORDS
Absolom Rex by K.L. Coones (member)
Roman prefect, Pontius Pilate, is sent on an unwilling errand for Caesar; subdue the Judean province and establish undisputed roman rule. But dangers from religious zealots and political scheming are nothing. A nightmare being; only whispered of in the ancient tales of the Greeks, reveals itself. As the world he once knew shatters, Pontius must decide; do battle with the malevolence, or flee.
Absolom Rex is a unique work in the world of the horror genre. When most books depend on the shock value of a beheading or use of insanity as a primary character trait, Absolom Rex, draws inspiration from the roots of the genre, where the environment sets the mood of a story, dialogue drives the characters and their development forward, and proper description puts the reader into the scene for maximum emotional impact.
PURCHASE ON AMAZON
Member's Selection
Seed by Ania Ahlborn
Fans of Stephen King, Jack Kilborn, and Blake Crouch… prepare to meet the Devil. In the vine-twisted swamps of Louisiana, the shadows have teeth. Jack Winter has spent his entire life running from something no one else can see. His childhood is his darkest secret, but after a near fatal accident along a deserted road, the darkness he was sure he'd escaped rears its ugly head… and smiles. But this time, he isn't the only one who sees the soulless eyes of his past. This time, his six-year-old daughter Charlie leans into his ear and whispers: "Daddy, I saw it too."
PURCHASE ON AMAZON
Blaze's Pick
Evil Unleashed (Mind of a Madman) by Valerie Bowen
Caleb Talbot escaped from prison during a riot. After fleeing the facility, Caleb lives peacefully hidden away on a farm in Nebraska. Until law enforcement discovers the escapee that had been presumed dead, was very much alive. Warden Hahn of the Kansas State Penitentiary enlists the aid of Officer Michael Quincy and his canine partner to find the escapee and return him to prison where he belongs. Caleb Talbot discovered law enforcement was on his tail, and quickly devises a plan to retain his freedom. The kidnapping of a woman is the beginning of Caleb's heartless murder spree. Michael soon realizes the man he had been hired to capture, has a disturbing past lined with brutality and bloodshed. He also knows Talbot has little regard for human life. Can Michael and his canine partner Sasha bring the madman to justice? Or will they be just another name on Caleb's ever growing list of heinous murder victims?
PURCHASE ON AMAZON
Wendy's Classic Pick of the Month
A Princess of Mars by Edgar Rice Burroughs
Although Edgar Rice Burroughs (1875-1950) is justifiably famous as the creator of
Tarzan of the Apes
, that uprooted Englishman was not his only popular hero. Burroughs's first sale (in 1912) was
A Princess of Mars
, opening the floodgates to one of the must successful--and prolific--literary careers in history. This is a wonderful scientific romance that perhaps can be best described as early science fiction melded with an epic dose of romantic adventure.
A Princess of Mars
is the first adventure of John Carter, a Civil War veteran who unexpectedly find himself transplanted to the planet Mars. Yet this red planet is far more than a dusty, barren place; it's a fantasy world populated with giant green barbarians, beautiful maidens in distress, and weird flora and monstrous fauna the likes of which could only exist in the author's boundless imagination. Sheer escapism of the tallest order, the Martian novels are perfect entertainment for those who find Tarzan's fantastic adventures aren't, well, fantastic enough. Although this novel can stand alone, there are a total of 11 volumes in this classic series of otherworldly, swashbuckling adventure.
--Stanley Wiater
FREE ON AMAZON
July's Anthology Selection
I Believe in Werewolves
Teeth, fangs and claws, rent flesh, and howls in the night send fear as the creatures that were once men bring terror and death to those they encounter. Werewolves, vicious demons of the night, hunt for prey as their hell curse drives them to a destiny undreamed by them as men.
Netbound Publishing is pleased to announce what will be the first in a series of horror collections that will become an integral part of their "Night Terrors" imprint.
We've gathered together the best in independent horror authors to create a fresh and exciting anthology that will leave you wanting to howl at the moon. Your screams will fill the night as you read from one story to the next, each more terrifying than the last, as Werewolves feast on your nerves.
Includes:
Afternoon Tea by Jennifer Tucker, Winter Moon by John Irvine, Justice Comes With The Moon by Jeremiah Coe, The Hunger Within by Elizabeth Kolodziej, Werewolves Of Mauvin by Robert A. Read, The Reunion by Melissa Stevens, No Poaching Allowed by Rob M. Miller, Lily's Angel by Shawn Pfister, The Lycaning by Lori R. Lopez, Parenting - Not For The Faint Of Heart by Scott M. Goriscak, Lakota Justice by Blaze McRob, For The Good Of The Fatherland by Mary L. Underwood, Queen Of The Dogs by Lee Pletzers, Once Bitten - Not So Shy by Sirrah Medeiros, Lie Canthropy by Jerry McKinney, The Seventh Son by Melissa Stevens, Mouretta by Linda M. Lovecraft, Solitary by Michael Bertolini, Wolf Killer by Mikel B. Classen, The Investigation by Jennifer Tucker.
PURCHASE ON AMAZON
Enjoy these great books!
Blaze