http://darkmediacity.com/group/the-dark-book-club
Here are June's great selections for The Dark Book Club on DarkMedia City!
These are all great selections!
Member's Novels
Halo of the Damned by Dina Rae
Andel Talistokov is known for his slick advertising agencies across the globe. He is a fallen angel that uses advertising as a weapon for Satan's work. His growing power emboldens him to break several of Hell's Commandments. Furious with his arrogance, Satan commands him to return to Hell after finding his own replacement. Yezidism, an ancient angel worshiping religion, quietly expands throughout the West. Armaros appears as a guest of honor during their ceremonies. He mates with young women to produce nephilim, a mixed race of humans and angels. They are alone and unprepared for their supernatural power. Joanna Easterhouse, a recovering drug addict, steps out of prison shortly after her mother's fatal accident. She and her sister, Kim, unravel their mother's secretive past. Intrigued, they learn their bloodline is part of a celestial legacy. Both worlds collide. Halo of the Damned is a horrifying tale that weaves research together with suspenseful twists and turns.
PURCHASE ON AMAZON
Ghost Dance by Kathryn Ptacek
A Death in Manhattan-a glistening feather lies near the body. A Native American rights activist arrives in San Diego-a gleaming feather waits on the hotel bureau. A brutal murder discovered in Las Vegas-a brilliant feather is found at the scene. Chato Del-Klinne, drifting ex-professor, cannot let the Las Vegas murder go unsolved: the victim is a good friend. The shining feather will lead Chato and his beautiful girlfriend Sunny into unimaginable horror - horror that may encompass the entire world...unless Chato can prevail against the renewal of the hundred year old Ghost Dance.
PURCHASE ON AMAZON
Wendy's Choice
Starship Troopers
Juan Rico signed up with the Federal Service on a lark, but despite the hardships and rigorous training, he finds himself determined to make it as a cap trooper. In boot camp he will learn how to become a soldier, but when he graduates and war comes (as it always does for soldiers), he will learn
why
he is a soldier. Many consider this Hugo Award winner to be Robert Heinlein's finest work, and with good reason. Forget the battle scenes and high-tech weapons (though this novel has them)--this is Heinlein at the top of his game talking people and politics.
PURCHASE ON AMAZON
Blaze's Choice
Birthright by Sue Mydliak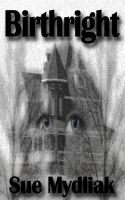 When Candra Rosewood returns to Utica she's already missed her parents funeral and everything she thought about her family turns out to be a lie.
When Kane turns up unannounced on her doorstep, Candra, fights her strange need for him. Is he somehow involved in her parents' death? Is the mysterious Mr Bennet a friend or foe, and can she trust him when he says she's descended from powerful vampires.
Birthright is a novel that opens the door on family secrets. Both Kane and Candra are locked into a shared past neither of them can escape. Evil is everywhere waiting to pounce. Candra must decide who is a friend and find out what her birthright really is.
When everything in your life is lost, whom can you trust and who will be there to pick up the pieces and help you put them back together, family or a stranger.
PURCHASE ON SMASHWORDS
June's Anthology Selection
Childhood Nightmares: Under the Bed - edited by Kate Monroe
Those whispered tales of monsters hiding under the bed, or of the demons lurking in the shadowy corner where we dare not glance for fear that seeing them will make them all too real. Oh, how the innocent landscape of a child's imagination lends fertile soil to horrors ready to be sown on the slightest of sounds; the tales and the terror they wreak on our youthful minds never quite leaves us.
We asked the authors in this collection to reach into the forgotten recesses of their twisted minds and share with us the tales of nightmares that can only thrive in the hidden corners of a child's imaginings; the bogeyman under the bed, the outlandishly fiendish creature lurking in the dark, the slight murmur of sound coming from the hall… did you close the door completely?
Explore the myriad terrors that only a child can twist from nothing into some 'thing' in the span of a single rapid breath. Do you dare delve into your own memories? Perhaps you'll start sleeping with the lights on again...
PURCHASE ON AMAZON
Contributing Authors: Colin F. Barnes, Nina D'Arcangela, Phil Hickes, Amber Keller,
Kim Krodel, Lisamarie Lamb, John McIlveen, Kate Monroe, Brandon Scott,
Joshua Skye, Julianne Snow, and Jack Wallen



These are wonderful reads.

Blaze